Our Nursery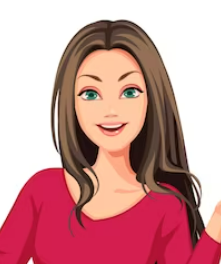 Miss Faye Whatmough Nursery Teacher
We are excited to share with you our beautiful Nursery!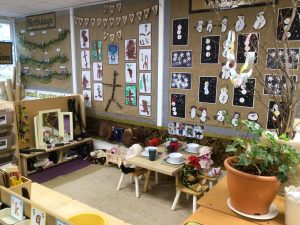 Our Intent
At Raynville Academy we offer a curriculum rich in wonder and memorable experiences. We work hard to provide a stimulating environment that provides exciting opportunities, promotes challenge, exploration, adventure and a real love of learning. 
It is our intent that all children develop physically, verbally, cognitively and emotionally in an environment which values all cultures, communities and people. We aim for our children to be confident and independent, to believe in themselves and interact positively with others. 
We understand that play is an integral part of learning and this is at the heart of our early year's curriculum. We believe that the correct mix of adult directed, and uninterrupted child-initiated play ensures the best outcomes for pupils. 
Warm and positive relationships between staff and children, consistent routines and strong relationships with parents are key. 
We recognise the crucial role that early year's education must play in providing firm foundations upon which the rest of a child's education is successfully based.
At Raynville we ensure close links are maintained with the Reception Class to aid transition. We work in the same outdoor environment together so our children become familiar with all of the adults in the Foundation stage classes. This also means children become very familiar with the 'big school' and their move to Reception is a natural, non-threatening progression.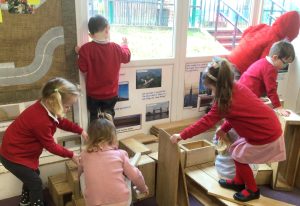 Our Environment
Outdoor Provision
At Raynville we understand the importance of outdoor play. The children have access to two large outside areas, whatever the weather! Our sand pit that the children can get in, is always a huge hit. Outside play allows children to develop self-confidence, independence and self-esteem. They also become aware of limits, boundaries and challenge in their play. We encourage our children to take risks, in a safe environment. When children are playing outdoors, they are more likely to try new activities.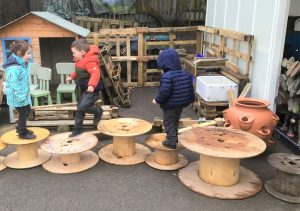 Indoor Provision
Our stunning indoor provision is carefully designed to be an inviting and calm space. Here the children can be curious, role play, build and create. Our setting is deliberately neutral and is full of cosy areas of investigation, with lots of natural resources. Through these loose parts, natural resources  and recycled materials the children can use their imagination and explore endlessly.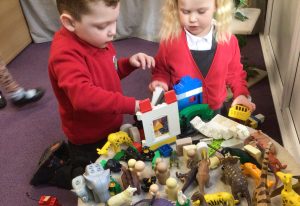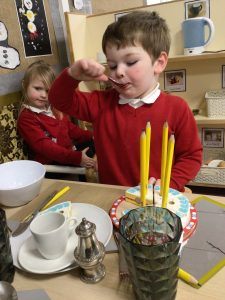 For more information about our Nursery, 30 hour funding and session times etc. Please take a look at the information booklet.