The English Curriculum at Raynville has been designed in accordance with The Early Years Foundation Stage Curriculum and The National Curriculum. From the Early Years, children are encouraged to have a positive attitude towards reading and writing. We believe that a quality English curriculum should develop children's love of reading, writing and discussion.
SPOKEN LANGUAGE
Spoken language underpins the development of reading and writing. The quality and variety of language that pupils hear and speak are vital for developing their vocabulary and grammar and their understanding for reading and writing. Communication skills are fostered throughout our pupils' time at Raynville, from Nursery to Year 6. All children are given the opportunity to perform in class, in assemblies and special performances. We want to inspire children to be confident in the art of speaking and listening and use discussion to communicate and further their learning.
READING
At Raynville, we strongly believe that reading is a key life-skill that underpins learning and future success. This is why we have reading at the heart of our curriculum. Reading develops and broadens children's language skills and vocabulary and is key to achieving success across the curriculum. Here at Raynville, we encourage children to develop a love of reading and we provide varied opportunities for children to enjoy reading for pleasure as well as for learning. Enabling our children to become fluent and confident readers is very important to us and we ensure that they have opportunities to experience reading a wide variety of text types from a wide range of authors and poets.
FOUNDATION STAGE AND KEY STAGE 1
In Reception and Key Stage 1, children learn to read using our 'Read Write Inc.' (RWI) systematic synthetic phonics programme. They have a daily phonics lesson. To ensure that learning is embedded, flashcards and reading opportunities continue throughout the day and additional phonics teaching is given to identified children. Phonics remains the main strategy that we use to approach/decode unfamiliar words and spelling across the school.
When children are ready, they will receive a RWI book. This book is read in school with the teacher or class teaching assistant. The book is then taken home for the children to read to their parents. These books are changed weekly.
Once children have reached Ditty group, they will participate in daily RWI guided reading sessions with books matched to their phonic knowledge. In these sessions, children build up their decoding skills, reading fluency and comprehension.
KEY STAGE 2
In Key Stage 2, RWI phonics is taught to those children who still need it. This is delivered in small groups with 1-1 interventions in the afternoon to ensure the gap is closed as quickly as possible.
Once children have completed the phonics programme, they participate in whole class reading sessions. These lessons focus on children becoming more fluent readers, as well as developing their key reading skills. We use 'Reading VIPERS' to develop these reading skills.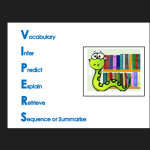 WRITING
We recognise the importance of nurturing a culture where children take pride in their writing, can write clearly and accurately, and adapt their language and style for a range of contexts, audiences, and purposes.
RECEPTION
High quality texts are used as the main stimulus for writing during English lessons in Reception class. Within lessons, children learn to:
• Write the letter/letter groups which represent the 44 sounds.
• Write words by saying the sounds and graphemes (Fred fingers).
• Write simple then more complex sentences.
Writing can be seen in all areas of provision in Reception class. The children are encouraged to write independently at every opportunity.
KEY STAGE 1 AND KEY STAGE 2
At Raynville, we used a text-based approach to stimulate children's ideas and imagination to help them become successful writers. Our discrete teaching of grammar and explicit teaching of speaking and listening helps children to be equipped with the tools to write effective pieces of writing, engaging a range of audiences, and writing for a range of purposes. As part of the writing process, children use visual stimuli, drama activities and create story maps/emotions graphs to help them understand the way in which writers create mood and feeling through a text.
SPELLINGS
Children use their phonic knowledge from Read, Write, Inc lessons to spell words. Once the phonics programme has been completed, we use the Read, Write, Inc spelling programme to teach the spelling rules in the National Curriculum.
HANDWRITING
The children start learning how to form their letters in reception as part of their phonics lessons. RWI uses catchy rhymes to help the children remember how to form each letter correctly with a lead out line (see example below). In year 2 (or when the children are ready) we teach them how to join their writing. This continues until they have a legible, fluent style of handwriting.